We love boxing. Love it. And we love you astounding women who participate in boxing, kickboxing, Muay Thai, etc. You wrap your hands, strap on gloves and do the unexpected - train to fight. You deserve the best and we at Machina have put in an effort to provide gear equal to your unbreakable commitment.
NEW! Introducing Color Block Carbonado Training Gloves.
Available now in 3 styles and 3 sizes. Charcoal gray exterior with red, light blue, or yellow/gold palm. See all the Carbonado Training Gloves here.
Hand wraps are worn to align and compact the bones and joints in the hand. They provide extra protection to the soft tissues of the hand during the impact of a punch in order to prevent injury.
Machina hand wraps are 2" wide and come in 120" 150" or 180" lengths to accommodate every hand and wrist.
Machina wraps are made of ribbed cotton woven with slight elasticity to conform to your hand, knuckles and wrist.
CLICK HERE FOR FIT/CARE INFO & REVIEWS
• 120" 150" or 180" Lengths
• Red, Black or Light Blue
– 120" wraps - $7 (one pair)
– 150" wraps - $8 (one pair)
– 180" wraps - $9 (one pair)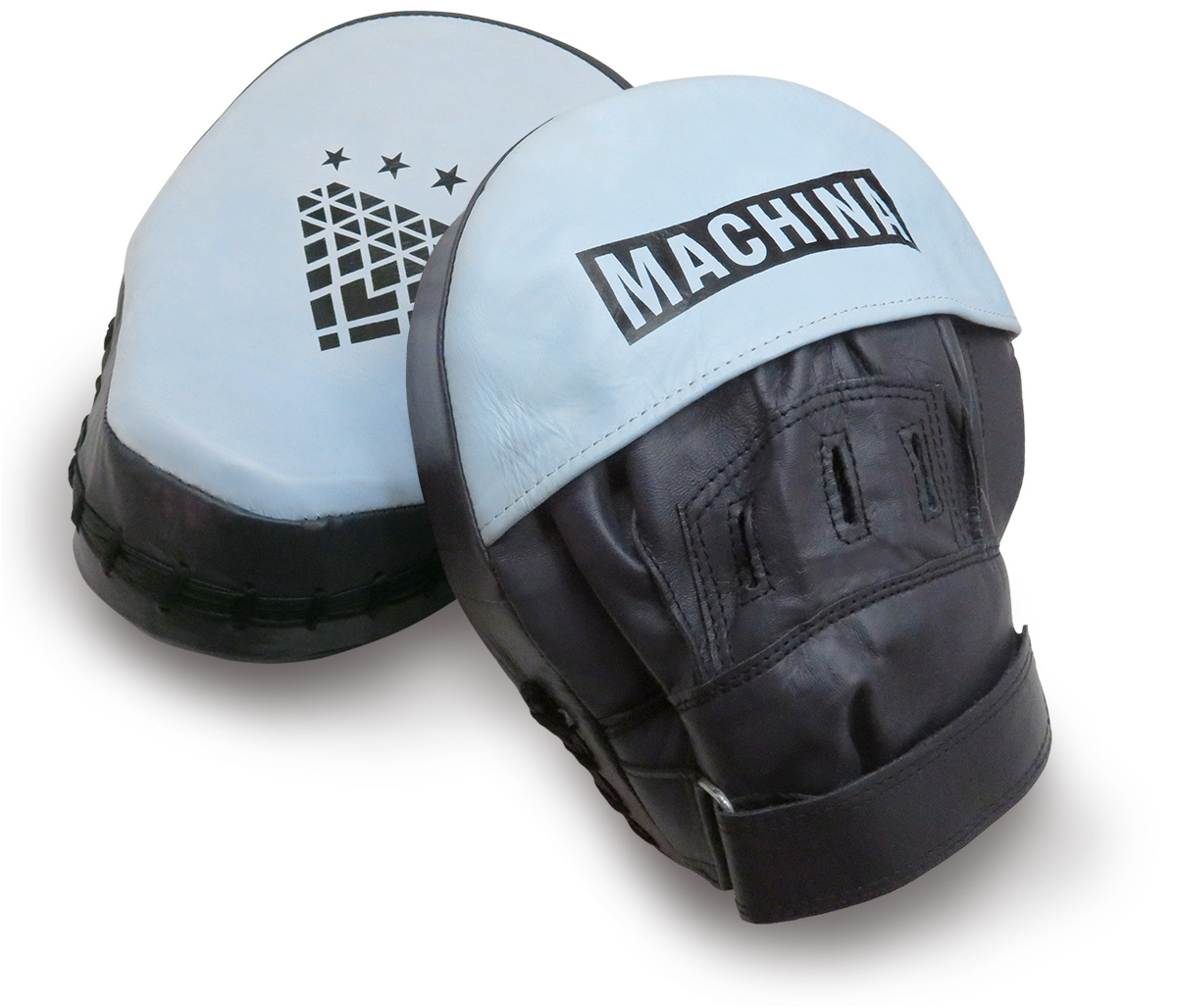 These "Flawless" mitts are perfectly balanced and encourage proper hand and wrist position for catching punches. Ideal for practicing punching combinations and developing quickness.
Flawless Focus Mitts are a standard unisex fit in genuine leather. Aim for the Machina diamond!
CLICK HERE FOR DETAILED INFO & REVIEWS
• Genuine Leather
• Dark Gray w/Red, Blue or Yellow
• 7" Wide, 9" Tall
• 1.75" Thick Padding
– $67
Our Club Duffel is made with the female fighter in mind. This beauty is an instant classic with rugged construction, generous space, inner compartments for stowage, outer mesh pockets for gear, sturdy handles and even a perfect pouch for carrying a water bottle or trophy.
The Club Duffel is constructed of heavy duty nylon for superior durability. The main compartment is lined in red nylon for dirt resistance and easy clean up.
CLICK HERE FOR DETAILED INFO & REVIEWS
• Black Nylon Shell, Red Nylon Lining
• Approximately 20" Long
• 10" Deep and 9.5" Tall
– $69
TRAINING SETS/KIT
Whether you're new to the sport or a seasoned pro looking for a gear refresh, a Club Set or Kit is a great way to get outfitted. Go to SETS & KITS to learn more.